Dress Like A Toddler
'Dress like a toddler' is a mantra coined by my bestie Liaqat at least 10 years ago. It chimed with me as a description and I realise that more and more I have adopted something like it as a way of dressing. Colours are simplified and in stories and quite 'matchy matchy'. I don't like the overuse of 'Pop' of colour - but you know what I mean.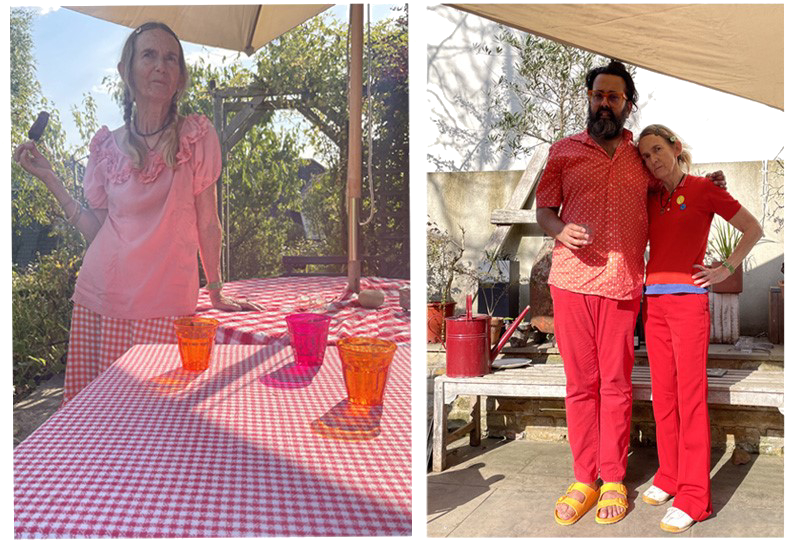 I bought this orange gingham children's dress in Barcelona 15 years ago. Now it's a skirt and beautifully matches my friend's tablecloth as well as the top - a gift from my friend Holly in Italy.
In the long hot summer of 2022 I splashed out on a pair of red Nigella, no, Margiella trousers. Getting lots of use. Worn with a kids polo top - charity shop find. I think the watering can and the friend are just to accessorise.
This pink linen skirt was from an Ally Capellino catwalk 1997 or 8 show, the sweatshirt came from the shop on Calvert Avenue. The bag is Ally Capellino it's called a Lockie and I grew the Japanese anemones to match
Favourite pair of French Workwear dungarees. Must be 20 years in the wardrobe. The bedspread is C19th from China. It's indigo dyed and discharge printed with different patterns on each side of the fabric. Plus a lot of patching. I think it would make a nice skirt.
The outfits that I have put with the military group are again not new in any way.


Aran Handnit - Oxfam stall at Festival.
White jeans - Acne
Beanie Hat - Ally Capellino
Mohair Socks - Pairs Scotland
Nuclear Green Trainers. Nike - via DePop
Olive Shirt - Jil Sander - Via Traid Dalston
Shortsleeved handknit - Vintage shop