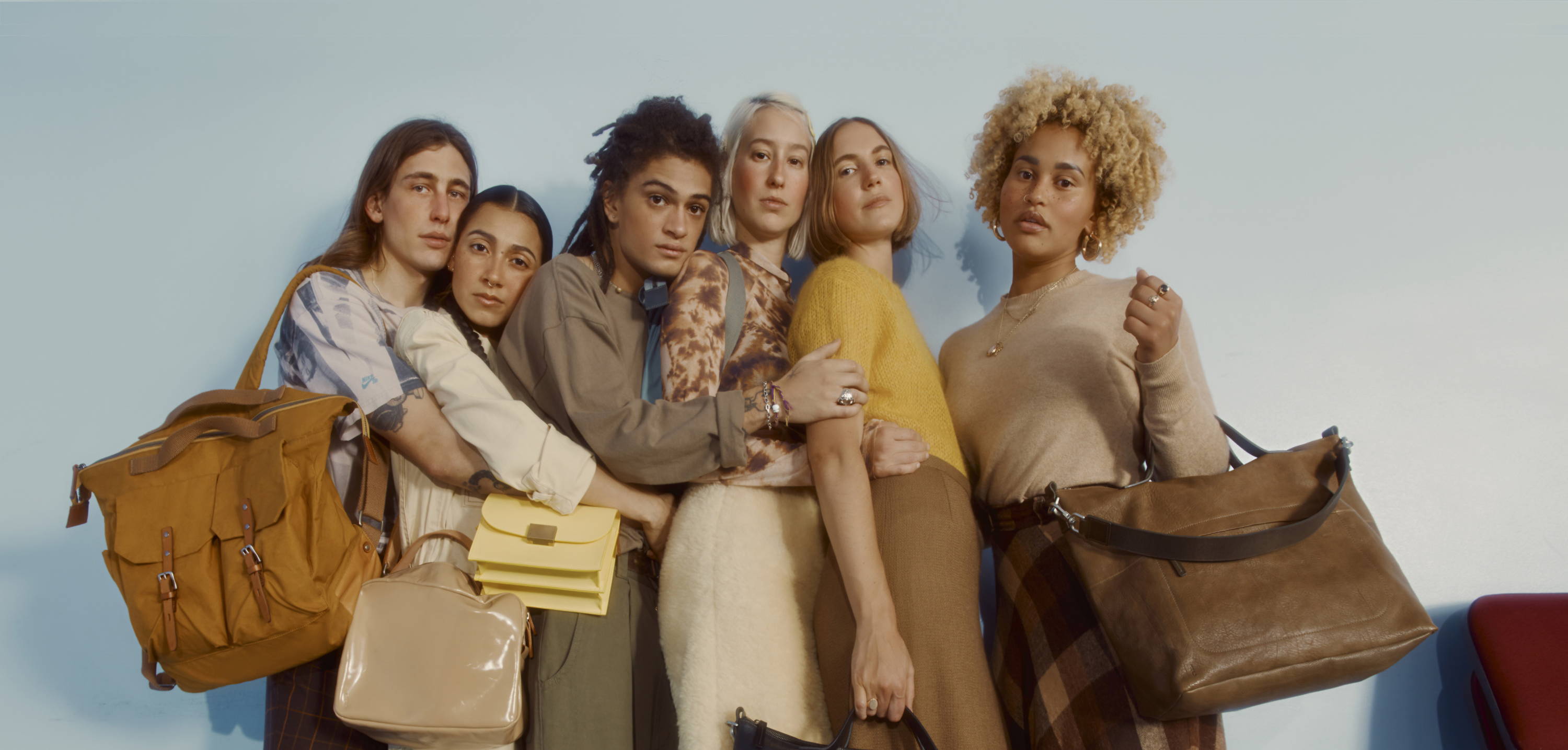 Colour therapy - join the group to find your soulmate. Relaxing colours to soothe the soul and soften the senses. Mellow yellows and rejuvenating red sit alongside shiny patent nude and tactile leathers.

Due to Covid-19 and its impact, our Calvert Street store is now closed until further notice. The health and safety of our staff remains our greatest priority at this time and we therefore feel that this is the correct and most suitable course of action.
Our online shop remains unaffected, although please note that processing may require a day or two longer. Please also feel free to contact us with any enquiries via our website.

Waxed Cotton is the Ally Capellino signature group recognised for its functional and contemporary design. The robust, British Cotton is combined with a waxed finish to make this group of bags and unisex Backpacks, functional and authentic. Ally Capellino rucksacks come with Italian bridle leather straps.
Ready for everyday use, these backpacks are multi-pocketed and offer space for your laptop. Have your everyday essentials by your side in satchels and cross body bags like Jeremy and Francesca. All bags are water-resistant and durable, casual but design-led. Waxed Cotton is a group of trustworthy and iconic bags designed in Shoreditch.

There is an edge to the bags in the Boundary Leather group. Contrasting colours and sharper corners take 70's references, but from there is a great leap ahead. The leather firmly holds its shape and is polished and waxed to a luxury sheen. The aged brass fitting is custom made with a smooth face and industrial knurled edges. It locates neatly to close. Lockie is a cross body bag in our Boundary Leather. It's crafted from Italian vegetable tanned leather with contrasting bridle leather details. It's the perfect size for day and evening. New yellow for Spring is now available.

The Hoy rucksack began in our Travel and Cycle collection. It is lightweight, water resistant and functional with clever details like reflective strips that glow in the dark and a clip for a bike light. Our customers asked for a leather version so we made in our signature Calvert leather making it strong and robust with adjustable webbing straps and all the details inside we know you need. The leather will age beautifully and is equally as comfortable joining you in a meeting or as a weekend bag. The Hoy us also available in a mini version in both Calvert leather and the cycle collection. In leather it is made in either black or moss colours. In the Travel and Cycle collection it comes in black or grey. All versions look good as a Tote using the Italian Bridle leather handles.

Become A Recovery Champion
Here at Ally Capellino we have designed and made 150 leather handled totes in support of our long-term charity partner, Spitalfields Crypt Trust. Help and support SCT to combat homelessness and addiction by becoming a Recovery Champion.
For a donation of as little as £12 a month, you will receive our limited-edition Ally Capellino Recovery Tote bag as a gift. Each tote has been hand printed by people in recovery from addiction.