Founder Alison Lloyd On The New SS20 Campaign
O So Mellow, O So Yellow,
They Call Me Mellow Yellow...
A few words with Alison Lloyd, founder of Ally Capellino on the new Spring Summer image campaign for 2020.
What is the theme for SS20?
I was quite driven by the impact of soothing hues like our mellow yellow used for our Boundary leather bags and the notion of colour therapy.
What was inspiration for the SS20 campaign?
I love playing with colour and tonality and it is my challenge and stimulation every day. The yellows of the boundary leathers are presented here looking mellow and calming and yet yellow can also jump and excite in a dazzling sunshine manner.
I liked the idea of working with a group of people and, as mental health being addressed more openly these days, I thought it could be a starting point to bring a disparate group of individuals together. The models are chosen for their individuality and character and they are brought together for a bit of Ally Capellino colour immersion and fun.
A connection and bond are developed in an age when there is often such a disconnect between people and physical interaction.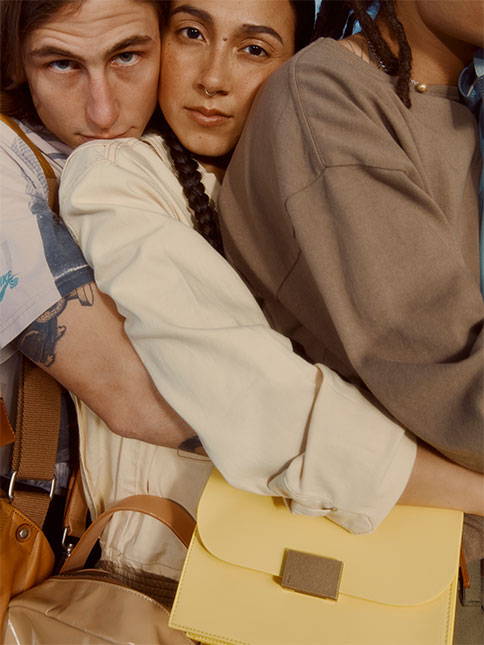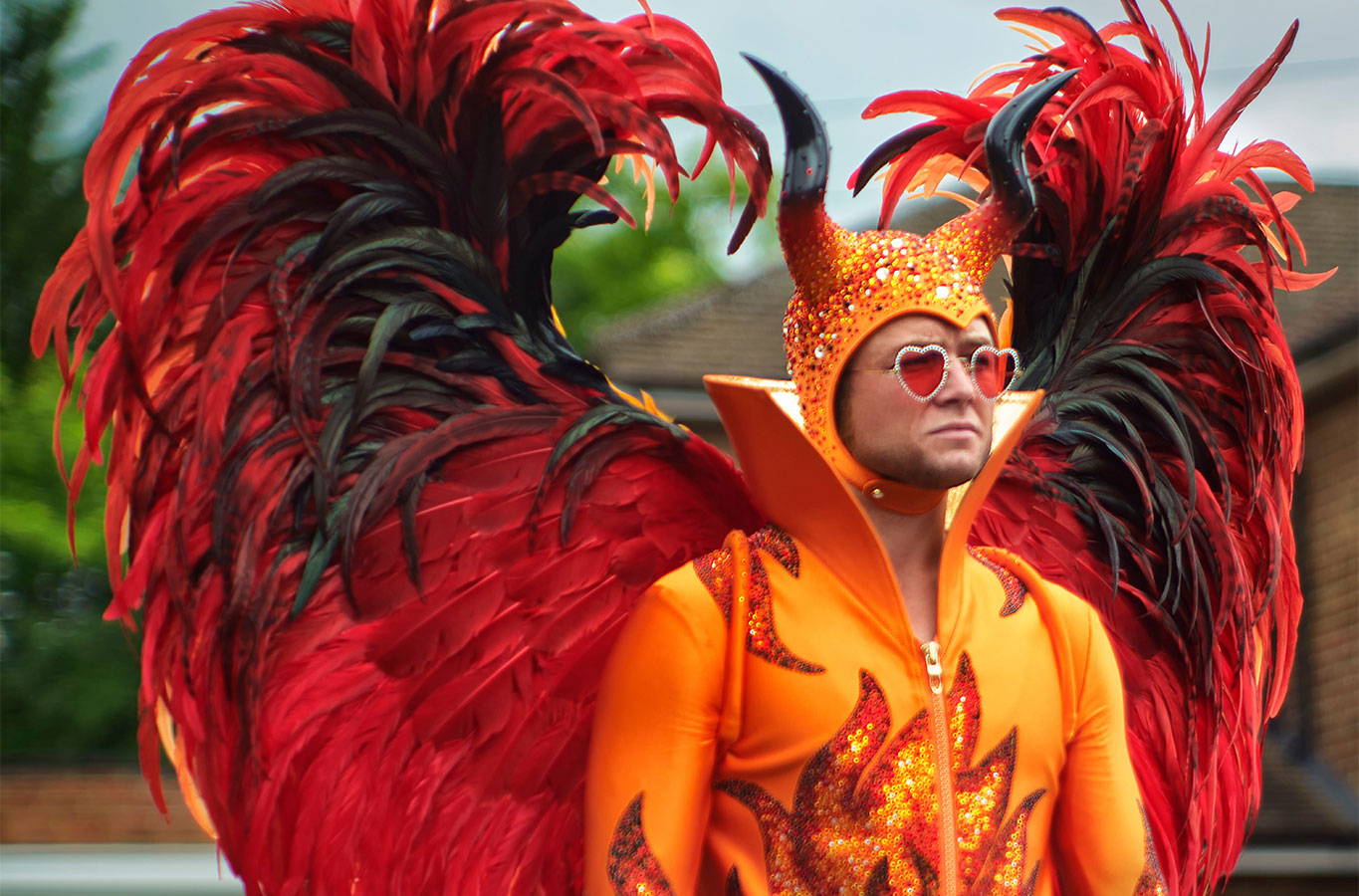 Do you regularly work with the same models throughout your campaigns and how do you select them?
We do reuse models from time to time but on this particular shoot did not. I tend to use models whose faces, body shape and even body language fascinates me. I love unconventional beauty; a strong nose, a squared jawline, Byzantine beauty.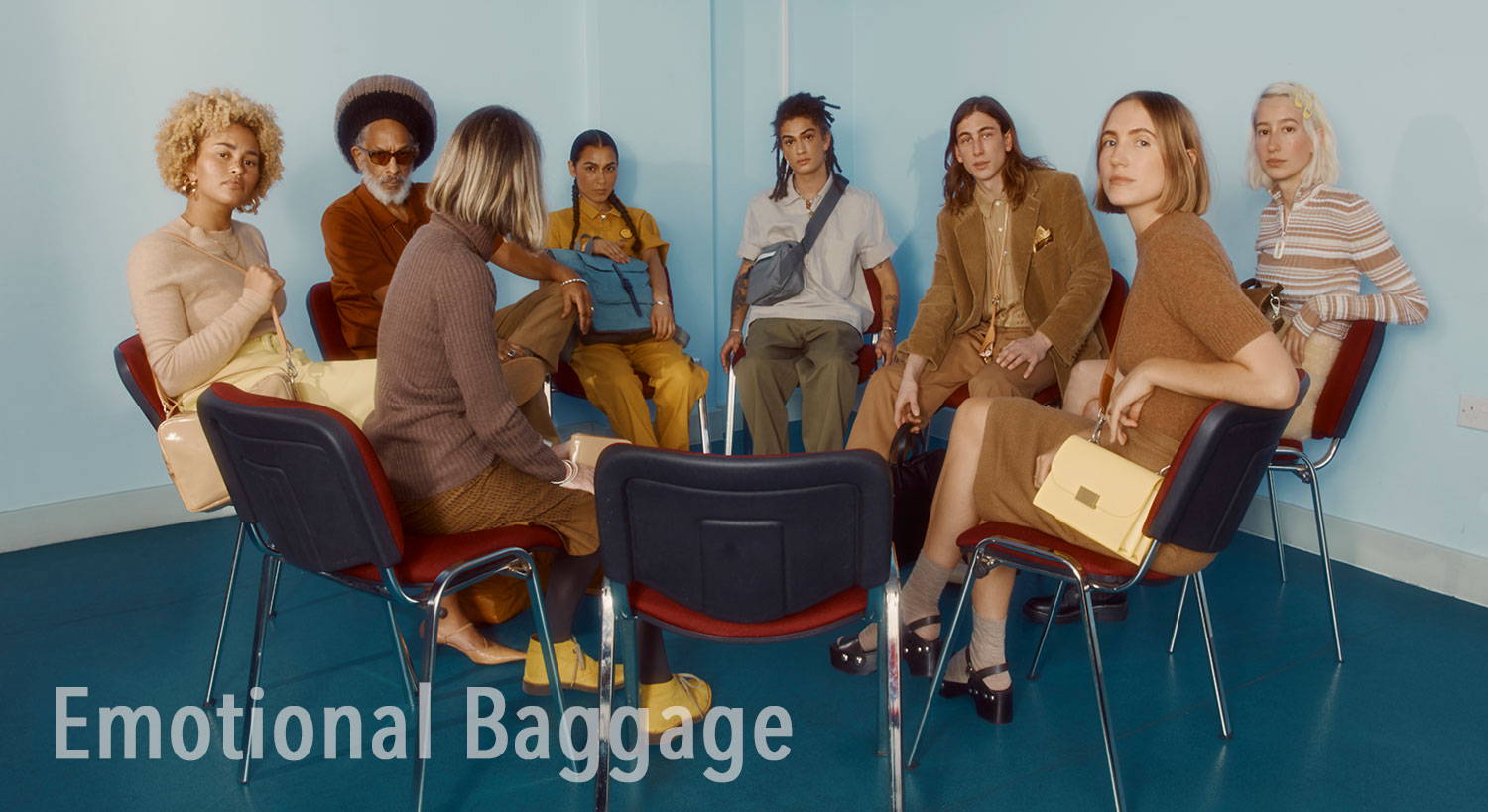 Our shoots are quite a collaborative process, with a few people sticking their oars in. If I conceive the original idea then Dave and Agnes will add their vision to develop and expand on it.
We have often worked together as a collaborative team and have had some great results. In terms of our SS20 shoot, they thought my colour therapy theme alone was a little too obvious, and came up with the more warm-neutrals idea that worked so well as a back drop instead. Camilla, the stylist was brilliant in the choice of garments, some vintage, some new and some of mine too. I love the end result, and I love what they saw in the potential of the blue walls and dark red chairs so that the whole thing stands out so well.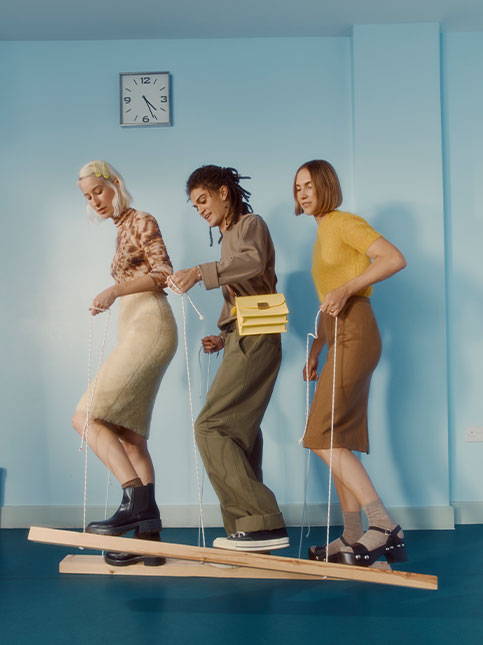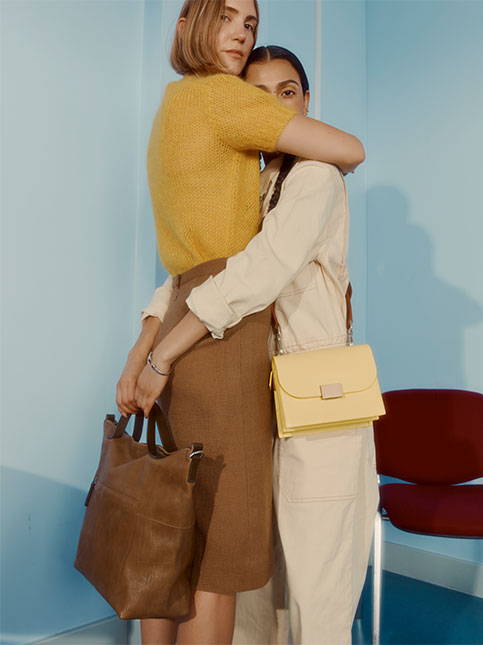 Was there a lot of laughter when creating the group activities for the shoot?
It wasn't particularly funny, in fact it was an almost stress-free shoot, as though people were actually unconsciously responding to the colours and the calming effects of them at first hand. I don't think any of us imagined that we would all have to apply ourselves quite so much, but at one point we all studied a single raisin and then put it on out tongues for further study.
How did you conceive of the activities shown in the shoot?
We worked with a movement coach who came up with some fun ideas to get the models working together and moving. It created some great shapes and a dynamism and fluidity of movement which was fun to watch. Given the theme of our shoot, the fun and games actually went a long way to showing how some of these team building activities can break down barriers and build communication.
Favourite bag in the current collection?
I have a soft spot for our new Leila bags in our beige gloss Calvert leather. They are unlined which really shows off the quality of the hide and construction too. There is something restorative and mellow about our Boundary leather bags too, I have a yellow Lockie bag and love wearing it – always in a fairly casual way though.